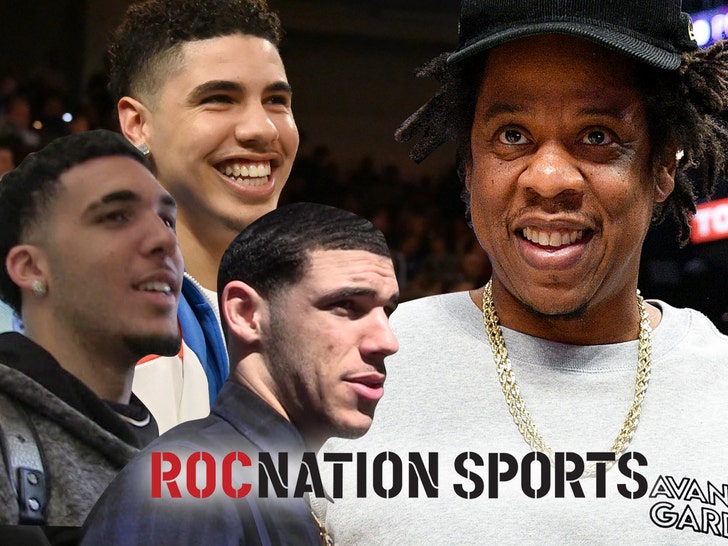 Breaking News
The Ball Brothers are joining a new family — the Roc Nation Sports fam — with LaMelo, Lonzo AND LiAngelo Ball all planning to sign with Jay-Z's sports management company.
Melo's business partner Jermaine Jackson went public with the decision on Monday … saying the whole family is on board.
"This was a family decision," Jackson said in an interview with ESPN. "This is now an extended family. They put together a beautiful game plan with Jay-Z."
Jackson says the family had been shopping for an agency and spoke with "several agents" — but ultimately, "The family had good vibes with Roc Nation."
Jackson added … "I've known Jay-Z since I played for the Knicks, but this is what the kids wanted to do. Jay-Z is a master at what he does. He's global. It's power beyond power."
The Ball Bros. join a HUGE roster of sports superstars signed to Hov's agency … including Kyrie Irving, Jaire Alexander, Spencer Dinwiddie and JuJu Smith-Schuster.
It's worth noting — Jay-Z's agency will be front and center for Melo's rookie shoe deal … which is interesting because the rap mogul is the creative director for Puma Basketball.
But Jackson explained to ESPN Melo's still exploring ALL options … but a Big Baller Brand deal is most likely off the table at this point.
It's a huge deal for Hov's company … as Melo could end up being the #1 overall pick in the Draft.
Jay-Z said it best — he's not a businessman, he's a business, man!!!