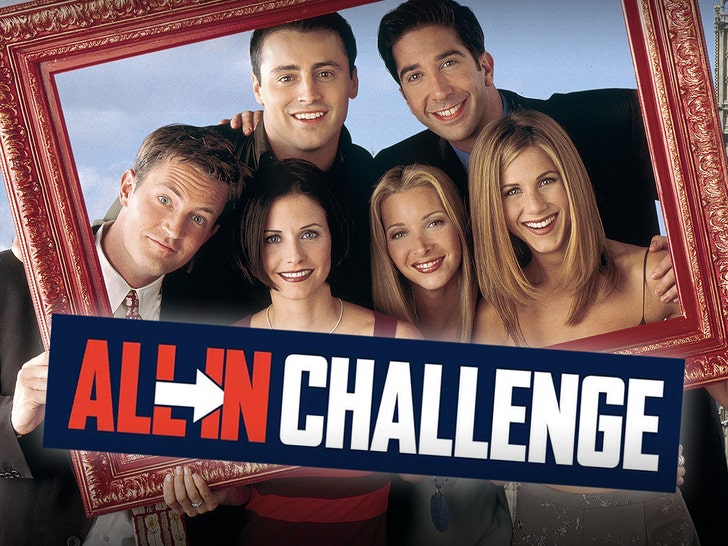 Breaking News
Rachel, Ross, Joey and the other "Friends" are the latest to dive into the All-In Challenge — the stars of the show are giving folks a chance to watch reunite on camera at long last.
Jennifer Aniston and the rest of her costars made the surprise announcement Tuesday — notifying their followers of the "The One Where You Meet the Entire Cast of 'Friends'" … which, of course, might just be the biggest All-In Challenge yet — if you're a fan, that is.
Jen took to Instagram to explain, writing … "We're inviting you and five of YOUR friends to join the six of us on Stage 24. Be our personal guests in the audience for the taping of our @HBOMAX reunion, as we reminisce about the show and celebrate all the fun we had 🥳 … and get the whole Friends VIP experience on the Warner Bros. Studio Tour."
She went on, "Can't wait to meet and hug you guys when this is all over 🥰 Until then, keep Facetiming, calling, DMing, and texting your friends and family. We gotta stay connected 🙏🏼" Everyone else said something similar, and the official description's almost word for word the same thing. Bottom line … a VIP 'Friends' experience like none other.
Waiting for your permission to load the Instagram Media.
If you're unfamiliar at this point, the All-In Challenge is pretty simple — you purchase "entries" into any given contest (there's a lot now) in increments of $10, $25, $50 or $100 … with the more you buy, the more the chances you get of getting selected to win. Most contests only allow one purchase of $100 per person, so you can't go crazy and guarantee a win.
All the money goes to a bunch of charities and causes pertaining to helping fend off COVID-19 and feed people in the process — 76ers owner Michael Rubin got it started … and the challenge has taken off since then with a bunch of celebs offering one of their own.
As for the 'FRIENDS' reunion prize … it's a perfect combination of TV bliss and advertising for HBO — which is rolling out its new streaming service, HBO Max, very soon. Great timing!
Sadly, it doesn't sound like this reunion will be an actual episode or anything — just the cast sitting around reminiscing on the show. So, yeah … we're still left with this final scene.
Still cool though … and it's for a great cause.