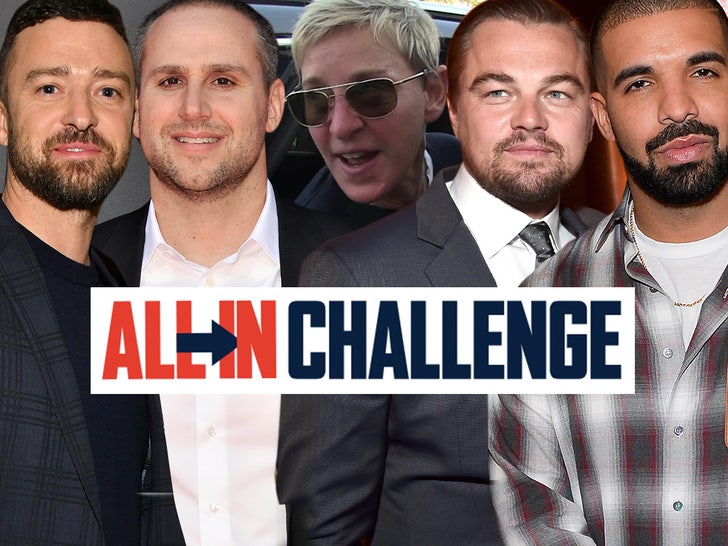 Exclusive
Leo, Michael and Ellen DeGeneres actually hold the top 3 spots in the top 10 fan experiences … meaning they have the most entries, as of Friday afternoon. Michael, the 76ers partner who created the All In Challenge, and his ultimate sports fan experience are sitting pretty … sandwiched between Ellen and Leo.
As we told you … ALL proceeds from the auctions and raffles are going to help feed Americans affected by COVID-19.
Leo's holding that No. 1 spot by raffling off a walk-on role in his next Martin Scorsese-directed film "Killers of the Flower Moon," which costars Robert DeNiro. So, a shot at hanging with Leo and Bobby D is as popular as you'd expect.
Rubin, who also owns the popular Fanatics brand, is at #2 by offering you tickets to almost ALL of the world's biggest sporting events —  the NBA Finals, World Series, Stanley Cup Finals and the Olympics Opening Ceremonies, to name just a few. He also threw in a $100k Fanatics gift card!!!
Ellen's giving someone a chance to be her next co-host, and that got her sitting at #3. Here's the rest of the top 10:
4. Justin Timberlake (Pebble Beach Golf with Bill Murray)
5. Drake (Fly Air Drake, OVO & Nike Gear, Nightclub, Concert)
6. Kevin Hart (Walk-on movie role)
7. Matthew McConaughey (University of Texas football game)
8. TikTok stars Charli & Dixie (Shopping, concert and shoot TikTok vids)
9. Justin Bieber (Private performance at your home)
10. Gary Vaynerchuk ($25k Wine Library shopping spree, "Trash Talk" podcast)