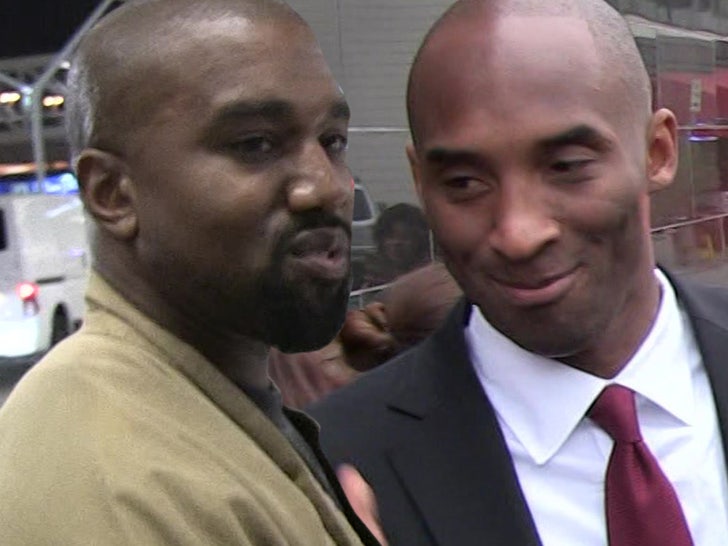 Breaking News
"He was the basketball version of me, and I was the rap version of him, and that's facts!"
That's Kanye West … explaining why he and Kobe Bryant were one and the same — LEGENDARY — and in typical Kanye style, he's not holding back.
It's spelled out in a candid (just released) interview with GQ that went down back in February, less than a month after his good pal Kobe died in a helicopter crash very close to Kanye's Calabasas-area home.
As part of the interview, Kanye agreed to take photos on a basketball court — and admitted, it was therapeutic.
"One thing I thought was really amazing is that we were able to find a groove with the photographs today even as out of it as I was with the loss of Kobe," Kanye said.
"We were able to just go to the court and play ball."
Kanye says he often drives on a street near the spot of the helicopter crash … and it makes him motivated to dominate in life like his friend Kobe did.
"There's no way for me not to be as determined as Kobe every time I drive down that street. It's game time. There's no move that we can't make, or that we'll wait to make."
Of course, Kanye and Kobe were close friends for years — they trained together, starred in Nike commercials together … and Kanye was even courtside for Kobe's last game.
Now, Kanye says he continues to draw motivation from Kobe — attacking challenges in life and business with that trademark Mamba Mentality.
"Everyone in our life is now a member of the Lakers on one of Kobe's championship teams. The way that Kobe would say that we all have to come together and win this championship is the way I look at life now."
He added, "We came up at the same time, together. And now it's like, yeah, I might have had a reputation for screaming about things — but I'm not taking any mess for an answer now. We're about to build a paradigm shift for humanity. We ain't playing with 'em. We bringing home the trophies."