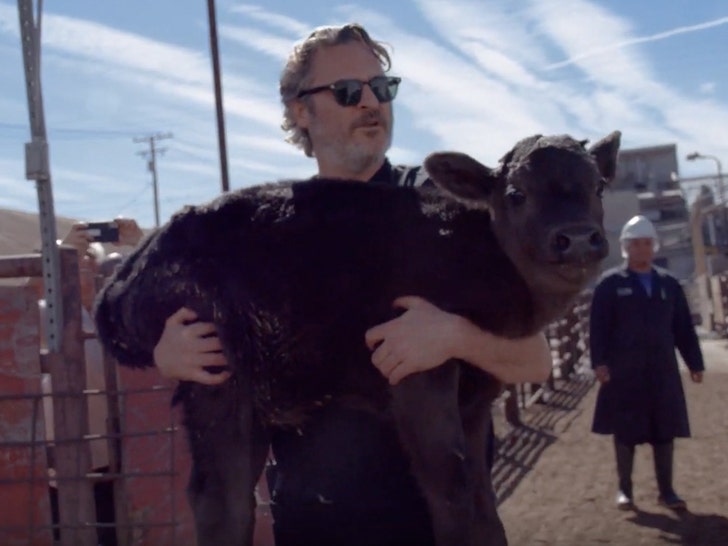 Exclusive
Joaquin Phoenix didn't wait long to walk the walk after mentioning the plight of mother cows and their babies in his Best Actor speech at the Academy Awards … and a mama and her calf are living happily together because of it.
The "Joker" star visited a slaughterhouse run by Manning Beef in Pico Rivera, CA the day after the Oscars to have a sit-down talk with Anthony Di Maria, president and CEO of the company … and it led to something remarkable.
Though the 2 butted heads over the nature of the industry, Phoenix and Di Maria found some common ground … and the actor helped LA Animal Save liberate a mother cow and her newborn calf, a daughter.
Joaquin's seen carrying the baby cow away from the holding area where she was born and onto a trailer with her mom. The bovine family will now be able to live and grow together at a Farm Sanctuary location in northern L.A. County … and they now have names.
Phoenix named the mama cow, Liberty, and the calf, Indigo.
Joaquin says … "I never thought I'd find friendship in a slaughterhouse, but meeting Anthony and opening my heart to his, I realize we might have more in common than we do differences. Without his act of kindness, Liberty and her baby calf, Indigo, would have met a terrible demise."
He adds that he and animal rights activists like him will continue to "fight for the liberation of all animals who suffer in these oppressive systems" … but he's happy about this victory.
Liberty and Indigo are the fifth set of mother and child cows saved by LA Animal Save … but they're aiming for many more.
This isn't a first for Phoenix either. As we reported … he passed on the SAG Awards after-parties last month and instead headed to a slaughterhouse, where he comforted trucks full of pigs on their way to be killed.
Joaquin joined dozens of protesters who congregate there twice a week, calling their demonstrations "pig vigils." Of course, Phoenix also reportedly convinced the Hollywood Foreign Press to serve an all-vegan menu at the Golden Globes.